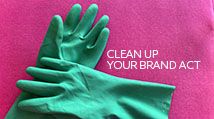 Customers are more connected to you digitally than ever before. They're also coming to your lobbies and drive-throughs and seeing your bankers out in the community at events, restaurants and businesses, at least when Covid permits. In short, your brand is visible nearly everywhere, all the time.
While these many channels allow you to reach audiences in more ways than ever before, it's easy to inadvertently get sloppy on a consistent, seamless brand experience because there's so much to manage.
Financial marketers must bring renewed focus on speaking with a brand voice that's cohesive everywhere: owned media, paid media, earned media and in real life. Below we look at each of these in detail.
1. Don't Squander Owned Media
Start with the media you have complete control over: website, social media and collateral materials. They represent your opportunity to tell your story in whatever way you choose.
This article was first published in The Financial Brand. Read the story in its entirety here. Watch our short video with best practices for brand audits: Better Brand Audits = Better Brands.
---
How are your marketing habits? If your brand needs a brush-up—or a clean sweep—contact Martha Bartlett Piland. Banktastic is the financial marketing and branding agency for banks, credit unions and financial companies. This email address is being protected from spambots. You need JavaScript enabled to view it. or call 785.969.6203 direct.