"We've gotta get our name out there!"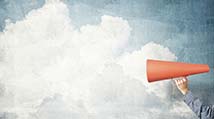 "We don't have budget for advertising. We just need to get our name 'out there.'" We hear this from small organizations a lot. There's little budget, but they still expect measurable results from a single marketing investment or activity.
But occasionally throwing your name—your brand—"out there" doesn't do anything to build trust, loyalty or brand equity. It doesn't tell a compelling and credible story of what you stand for, and it doesn't offer value to anyone.