A (brand) new shiny '22 is here
Though this week heralds the arrival of a brand new year, we'll be making resolutions for the next year before we know it.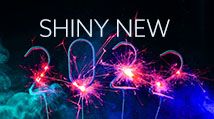 Don't let the year slip away because you were too busy.
Here are 12 strategies for a financial brand that builds love, loyalty and profit.
Nearly half of these Brand Best Practices involve employees. With their partnership and unwavering commitment to growing your organization, you'll thrive. Without them, the journey is ever so much harder.
Don't delay: get your brand ready for the new year and beyond by starting now.