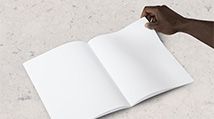 Attention financial marketers: before millennials can consider your institution and your products, they have to have awareness and understanding of those offerings and their benefits.
Many of your millennial customers are hungry for financial education at its most basic levels. If you're not satisfying this need, your marketing may not be any more effective than an empty page.
This may sound dramatic, but there are some big questions going unanswered—or worse—being answered by strangers who may or may not be qualified to offer sound advice. Millennials want to know about crypto, tax, investing and planning. Yes, many are quite savvy. But many more say they feel ill at ease by not knowing where to start.
Here are a few of the many questions I recently found perusing social media:
"I'm ready to jump into Crypto trading-are any platforms doing a good 'welcome bonus' or referral?"
"I'm terrible with money and inheriting some money which will give me a clean slate and about 110k left over. What do I do with it? This is embarrassing, but I'm honestly pretty terrible with money… I'm terrified of messing up this opportunity to finally get (and keep) my sh*t together."
"I am wanting to start investing some $$$ in stock. Part of me wants to pay a professional to do it, and another part of me wants to learn it myself…"
"Curious about this… (my friend) mentioned she always has to pay taxes at the end of the year because she always claims withholdings when filling out paperwork for her job. I never claim withholdings and always get a refund. We are both single and live in the same city. What is best, and why? Can someone walk me through this?"
Financial marketers: you have the opportunity to be the GO TO with answers to questions like these—and many more.
The millennial audiences who don't know the answers to some of these questions have no idea why they might need specific products like HSAs, HYSAs or HELOCs. They may not know that you even have wealth management services and the unique value you can bring… or much else, for that matter. So before you can successfully market your financial products to them, they need to know what these products are for, why they need them and how to use them.
Get those foundational communications pieces in place so your marketing resonates and works.
Here are three ways to start educating and offering financial solutions right now:
1. Get out there on social media to engage with millennials
Use your current social media channels, but also browse millennial financial groups that have a number of active members.
Listen: observe what people are asking, posting and discussing with each other. You'll discover questions like the ones you just read, along with the answers other people in the conversation pose. You'll also notice others who say they have the same questions.
Ask: use your own social media to ask questions and find out more about what people are interested in learning and where they feel confident already.
Offer solutions: see what resonates with your audience when you post answers or even more questions. Experiment with how you ask the questions and the visuals you use to see what generates the most discussion.
2. Use your app and online banking to listen to millennial customers
Ask questions: use the knowledge you've gained from social media listening and run some similar questions past your audience. Note what they respond to and begin making your list of content you want to offer them.
Create polls: these are short, engaging ways to get nuggets of information that help you further build up your content list. If you're struggling with low engagement, polls can be a good way to encourage responses and increase your numbers.
Offer an anonymous "ask a banker" feature: if one person asks, chances are that many others are wondering the same thing but don't want to appear ignorant. Make this function highly visible in the app and online. Be responsive and post answers weekly (or even more often) so people have a reason to frequently return to learn more and to begin seeing you as that irreplaceable GO TO.
Don't assume that they know your lingo or have product knowledge when you're testing or you may not get the answers you need.
3. Conduct focus groups with millennial customers
Focus groups are excellent tools to get to emotions, attitudes and perceptions. Since money can be a very emotional topic, think about the negative feelings you want to assuage: fear of looking foolish or making a bad decision. Uncertainty about what to do next or who to trust may loom large. Focus groups can help you find out so you know how to tailor messaging and promotions when marketing to millennials.
Find the emotion: use what you've learned to dig deeper into one or two topics per meeting. Do a lot of listening and not much talking. Notice where the conversations lead. Ask more questions and get to the emotions and feelings that come along with these discussions about money. Look for the fear, and also look for the sense of accomplishment and pride.
Get ideas for further testing: since focus groups offer qualitative information, don't rely 100 percent on what you hear. Use your findings as starting points for further testing through quantitative methods.
Develop educational offerings: use what you've learned to develop programs, products and services that make people come to you first, and value the relationship you want to establish.
Tomorrow may be too late
If you're seen as the authority and the nonjudgemental GO TO, you are no longer a commodity. You're speaking the language your millennial audiences understand. That makes you difficult to replace with robo investing and DIY online portals—or asking strangers on social media—because you're bringing genuine value. That creates longterm loyalty and profit for both the institution and its customers.
Don't put off til tomorrow the implementation of new offerings that millennials want. You can start small and grow your efforts. But start. The $68 trillion wealth transfer expected by 2030 is happening now. Tomorrow may be too late.
---
If you're looking for a bank marketing agency that knows how to create effective financial marketing to millennials, This email address is being protected from spambots. You need JavaScript enabled to view it. Let's start a conversation. Our National Millennial Advisory Board is a resource for savvy financial marketers. Find out more about how they can help your financial brand reach this vital audience.