The television series Burn Notice features a spy, a retired Navy SEAL and a former IRA operative working together as unlikely do-gooders rescuing underdogs and making bad guys quake in their boots. While the characters run full-tilt into danger (like most reasonable people won't) they offer lessons every marketer should take to heart
Here are 5 quotes from the show financial marketers should know:
1. staying strategic
"If you're always looking behind you to see who's coming after you, you can't see where you're going." —Michael Westen
It's vitally important to monitor the competition, know what they're doing and how your brand compares. Keep a dossier on your competition and your frenemies, too. Know their weaknesses and be ready to exploit them.
But dwelling too much on what's behind you will cause you to careen straight into a problem you could have avoided. You won't even know what hit you.
You have to plan the most efficient path that leads to the target ahead of you. That path may be straight or full of zig zags. But aiming for the target—and making sure all other actions get you there—is your most important role as a leader.
2. fostering vision
"There's a tunnel vision that people develop in a fight. They focus on their enemy, oblivious to everything else. The angrier they get, the more intense their focus. There comes a point where the adrenaline is so intense, you could land a jet behind them and they wouldn't notice." —Michael Westen
Your internal culture—including your leadership—can develop tunnel vision. Employees forget their roles in the bank's success when urgent matters become emotional and demand more attention than long term goals.
This is especially dangerous when people are:
isolated while working at arm's length or from home
angry about having to come back to work
unaware of hidden landmines caused by internal departmental silos
protecting their turf or withholding information
As a guardian of your brand and the institution's ultimate success, you must ensure that people don't lose sight of the vision. Even in the best of times, distractions are coming from all sides.
Sam Axe: "This train is rolling brother; the only question is if you're on board."
Jesse Porter: "Hell yeah, I'm on board."
Be keenly aware of the potential pitfalls and emotions that endanger your efforts. Work with HR, Marketing, Operations and others to ensure your culture and internal communications are top notch and keep bankers engaged and focused on the vision.
3. deeper research
"Spies go to bars for the same reason people go to libraries: full of information if you know where to ask." —Michael Westen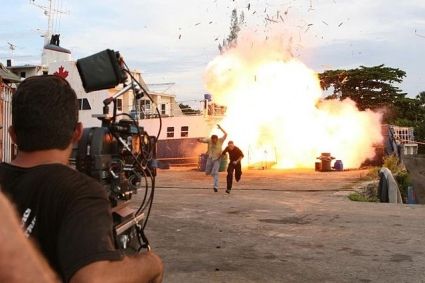 Is your marketing research giving you good intel? Do you know where to look? Where are you going for information about your employees, customers and prospects? Traditional efforts are good, but don't stop there.
Often overlooked as a research tool, social media is like your brand's virtual bar: millions of people are online championing, rating or berating financial products and services. Many are establishing expert status with HOW TOs and mentioning specific brands in every category like financial planning, credit card rewards, interest rates, online-only banks, savings apps, DIY investing and more. You name it, there's an expert—and scores of devoted followers. They're talking. You have the opportunity to eavesdrop.
Gathering this intel takes work. But it will deliver rich insights into how to enhance your brand and its offerings, enter new markets and uncover problems that may be coming. Listen in.
4. building trust
"Just because someone believes you are who you say you are, doesn't mean he'll do what you want him to do." —Michael Westen
What do you want your audiences to do, and are they doing it?
People may believe your brand promise and not switch to your bank.
They may open an account but not tell others.
Customers may get a loan or CD once, and not repeat.
If they're not doing what you want them to do—and you don't know why—you may need to build more trust in order for them to complete the desired actions.
Talk to them: find out more about their brand choices, spending habits and priorities. Has their financial situation changed, or are they tired of your brand? Has a competitor made a more attractive offer? Did you change something they liked and can no longer get? Have you become too expensive in terms of cost outlay or effort to bank with you? Do they feel that you appreciate them?
Observe them in action: watch what they do in the lobbies or your ATMs to see how they interact with your brand and your bankers. What do they do at the drive-through? Do they read the signs or check their phones? On your website, do they calculate a loan rate then leave? Do people begin to sign up online for an account, then abandon? If you've remarketed to them, did they come back or ignore you?
Uncovering these answers allows you to address the concerns and habits your audiences have, then bring them deeper into a trust relationship with you. Over time, that will translate into increased loyalty and revenue.
5. constantly innovating
Sam Ax: "Oh great, we're going to snatch a murderer with a couple of magnets and a roll of duct-tape?"
Michael Westen: "And guns, Sam, plenty of guns."
Like powerful brands, spies know they must be ready to pivot on a split-second's notice. They keep their tried-and-true weapons of choice handy, and they also use every possible tool at their disposal to prevail in their life-and-death encounters.
Can magnets and duct tape enhance your efforts? Maybe. If innovation as a daily habit isn't your mindset, your brand is already dead. Build cross-functional innovation teams to shore up your efforts at:
Advertising: what new or emerging media should be considered as part of your marketing mix? Set aside some budget for experimentation and intelligently test them with specific, trackable offers.
Messaging: times are changing—is your messaging keeping up? You may need to evolve talking points, PR efforts, reasons to believe or other messaging elements to stay relevant to your audiences. Test and see what works.
Product delivery: look at the many new business solutions that popped up in response to social distancing and sheltering in place. Consumers now expect to buy and receive many different products and services via new channels. Think about how these innovators answered consumer needs and use them as a springboard that inspires solving customer needs within your own bank or credit union.
Product offerings: your products or services may need revamping. Maybe a brand extension is in order. Or perhaps there's something you should discontinue. Measure what external trends are affecting demand. Watch for holes in the marketplace where demand isn't being met by anyone else. Create some testing models, build experiments. "Fail fast, fail cheap," says Doug Hall of Eureka! Ranch. But don't stand still. The villains are after you, so use every tool at your disposal.
Don't get burned
Most of us will never encounter real spies. And if we do, we won't know it. So let the fictitious characters of Burn Notice inspire you. Enlist your colleagues across the organization and build a bulletproof financial brand.
For more of our content on strategic marketing for financial brands, watch our 6-minute video: The number one target audience for every financial marketer is often overlooked.
---
If you need a financial marketing agency to help you build a legendary brand, Banktastic may be a fit. To find out, schedule a meeting with Martha Bartlett Piland today.