Is your brand as appreciated as an extra button?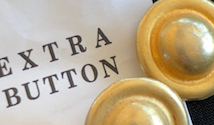 Why should you be an "extra button" brand? The extra button brand is the one who gets a customer by when he's in a pinch. It's the brand that helps a customer save face. It's the brand that has your back.
Deliver that kind of service, and you're the life saver that builds unquestionable loyalty.