Three pitfalls that can sabotage bank brands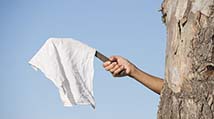 Bank brands are under attack like never before. Competition is fierce and aggressive. Players from new industries are seeking to lure customers' money away from FDIC-insured banks. Pitfalls abound.
While you strategize on fending off the marauding outsiders, be sure you're not accidentally making your brand more vulnerable because of your own self-sabotaging actions.